Tiny Meckwell
You can watch Meckwell and all the other stars of the Vugraph on a phone, as long as you don't mind them being a touch tiny. Here's one of this morning's matches on my new iphone: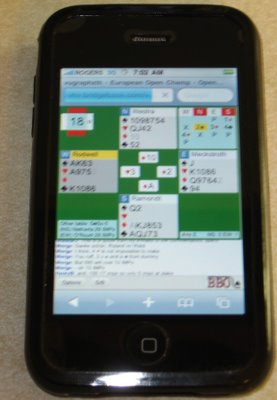 .
.
.
.
.
.
.
.
.
.
.
.
Now for comparison, here is the iphone and part of the monitor running BBO on Windows: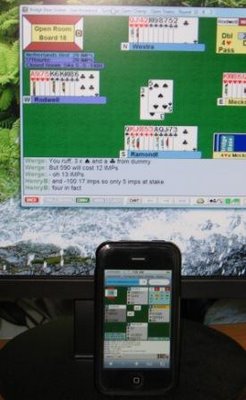 .
.
.
.
.
.
.
.
.
.
.
.
Here is the iphone with BBO running in a browser, and I'm using Google's Chrome browser since it is quite fast: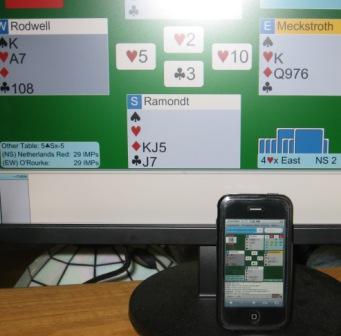 .
.
.
.
.
.
.
.
.
.
You might notice that Meckwell's teammates are going for down 5 doubled, and we will discuss that not tiny -1400 in an upcoming post.
For details on trying this beta software:
http://forums.bridgebase.com/index.php?showtopic=31727
Some tournaments are considering a time delay in show the vugraphs:
http://forums.bridgebase.com/index.php?showtopic=32691
Fred Gitelman states:
I think it is safe to predict that the one and only reason we would have for making this change would be if a major tournament organizer (the WBF for example) said "introduce a delay or you won't be able to broadcast our events in the future".
I love BBO vugraphs, even on the phone if I'm away from a monitor, and if takes a delay so be it, but this will not come close to solving the security issues with wireless technology prevailing everywhere.