11 Point Balanced Openings?
The capability or decision to open 11 point balanced hands was key in the semi-final of the NEC Cup on Friday in Japan, between the Italian Lavazza team and the Netherlands.
The match was tied when board 15 arrived, near the end of the first of two segments.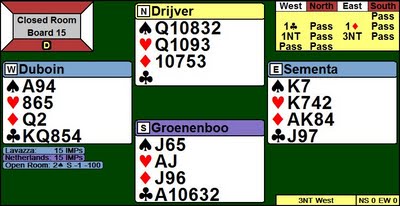 .
.
.
.
.
.
The Dutch South passed, West opened the 11 point balanced hand, and then there was a quiet auction to 3NT, making.

.
.
.
In the open room South opened the 11 point balanced hand. This left West with no good call, so he passed, and now North had a weapon available: 2D to show 5+ spades, 4+ hearts, less than invite values: a form of "Reverse Flannery by Responder". North South settled in two spades, down 1, for 7 IMPs.
Two boards later, in the last segment, the closed room East opened a 11 point balanced hand and a quiet auction got to 3NT, making.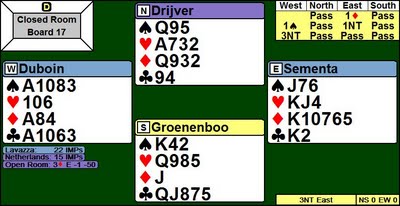 .
.
.
.
.
.
At the other table, the Dutch East passed, and now South opened light in 3rd seat.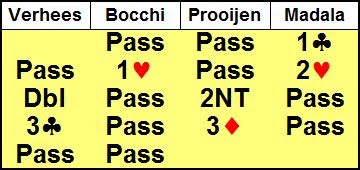 .
.
.
.
.
This got North South to a 2H contract before the opponents could compete, and then a takeout double and 2NT scramble got to 3D, down one, for 10 more IMPs to the Italians. Team Lavazza won their semi-final match by 7 IMPs, 41-34, and as the bulletin remarked, this was a very low scoring 32 board match for top level bridge.
The NEC Cup bulletins were excellent, as usual, the editors/writers being Rich Colker and Barry Rigal.
Board 15 is on page 30 of this bulletin, and board 17 on the next page:
http://www.jcbl.or.jp/game/nec/necfest10/nec2010_data/bulletins/blt5.pdf
Check out the bulletins after that for the exciting Lavazza-Zimmermann team final, at the NEC Cup Bridge Festival bulletin site:
http://www.jcbl.or.jp/game/nec/necfest10/nec_bul.html
I'll get to that changing your mind posting in a couple of days, if I don't change plans once more.