Bread N' Butter Part IX
This is Part IX of the Bread N' Butter series: a look at Meckwell bidding in the last world championship when one of them had 10 to 17 balanced, either in opening position, or directly over an opponent's opening. We will consider balanced as any 4-3-3-3/4-4-3-2/5-3-3-2, plus any hand that Meckwell treated as balanced.
The last of the round robin matches for USA2 was against Russia, with both cold war teams here running hot and ready to qualify for the playoffs.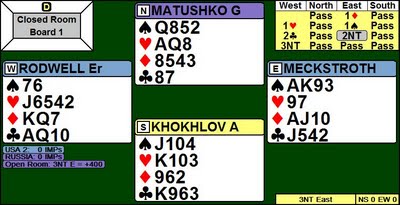 .
.
.
.
.
.
On board 1, Meckstroth opened 1D with the balanced 13, Rodwell bid 1H, Meckstroth rebid 1S where some approaches prefer a 1NT call with a balanced hand, 2C was fourth suit game forcing, and in their methods 2NT showed either 4-2-4-3/4-2-3-4/4-1-4-4. 3NT was a push.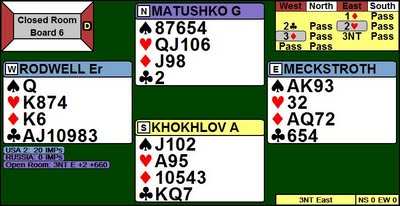 .
.
.
.
.
.
On board 6 we see once more the 1D-2m;-2H sequence to show the 11-13 balanced hand type, and now 3D artificially showed 6+Cs and 4+Hs, game forcing. Against 3NT South led a spade, and Meckstroth played club ace and another just making. In the other room in 3NT, the lead was a diamond, won in hand and on a club up Zia, South, played the club king, just getting one club trick. Russia had a couple of overtricks for 2 IMPs.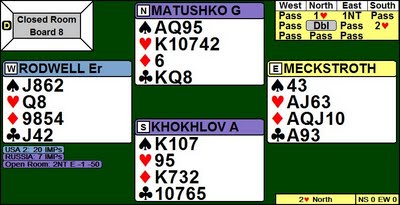 .
.
.
.
.
.
On board 8, Meckstroth overcalled 1NT (15-18), and now opener's reopening double showed four spades in their methods. 2H was down 1. In the other room a 2D Flannery opening had East overcalling notrump at the two level, down 1, and the two +50s gave 3 IMPs to USA2.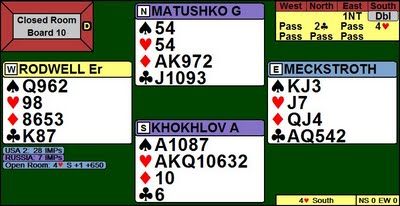 .
.
.
.
.
.
On board 10, Meckstroth opened a 14-16 1NT, and South's double was majors or strong single major or very strong hand. Since doubler could be weak, Rodwell did not initiate any runout sequence, and the opponents soon got to 4H, the contract in the other room. USA2 had an overtrick for 1 IMP.
The match score was 40-19 in IMPs, 20-10 in Victory Points. USA2 finished fourth in the round robin, and that it meant it would play who ever the top three teams didn't pick to play. Italy finished first, and picked Russia, who finished 7th, to play against, even though China was 1 VP lower than Russia. Norway picked China, and Bulgaria picked Germany. I love the picking of teams format for the playoffs since it produces motivation: the picked-on team says "you think we're easy pickings do you, let's change your mind". Before we get to the quarterfinals, and USA2 against the dangerous Dutch team, we'll look into issues of changing your mind in the next post.
Meckwell were 25th overcall in the round robin Butlers, a comparison of all pairs by results on each board across all matches. However different pairs play different matches, and Meckwell play all the tough ones. If we eliminate the matches that Meckwell did not play in, and take out a pair that had fewer than 5 match results left, we get:
1 Boye BROGELAND - Espen LINDQVIST Norway 0.82
2 Claudio NUNES - Fulvio FANTONI Italy 0.71
3 Alexander SMIRNOV - Josef PIEKAREK Germany 0.69
4 Kalin KARAIVANOV - Roumen TRENDAFILOV Bulgaria 0.68
5 Weimin WANG - Zejun ZHUANG China Long Zhu Open 0.61
6 Alejandro BIANCHEDI - Ernesto MUZZIO Argentina 0.58
7 Antonio SEMENTA - Giorgio DUBOIN Italy 0.57
8 Vadim KHOLOMEEV - Yury KHIUPPENEN Russia 0.54
9 Ulf Haakon TUNDAL - Glenn GROETHEIM Norway 0.51
10 Michael ELINESCU - Entscho WLADOW Germany 0.48
11 Zia MAHMOOD - Bob HAMMAN USA 2 0.42
12 Victor ARONOV - Julian STEFANOV Bulgaria 0.39
13 Kazuo FURUTA - Dawei CHEN Japan 0.36
14 Georgi KARAKOLEV - Diyan DANAILOV Bulgaria 0.30
15 Peter BOYD - Steve ROBINSON USA 1 0.29
16 Eric RODWELL - Jeff MECKSTROTH USA 2 0.28
17 Juei-Yu SHIH - Chih-Kuo SHEN Chinese Taipei 0.25
18 Huub BERTENS - Ton BAKKEREN Netherlands 0.23
19 Sjoert BRINK - Bas DRIJVER Netherlands 0.17
20 Simon de WIJS - Bauke MULLER Netherlands 0.09
21 Lixin YANG - Jianming DAI China Long Zhu Open 0.06
22 Per Erik AUSTBERG - Erik SAELENSMINDE Norway 0.05
23 Georgi MATUSHKO - Alexander KHOKHLOV Russia -0.04
24 Pablo RAVENNA - Carlos PELLEGRINI Argentina -0.37
The last figure is the average IMP gain per board played. If we then further take out the two easy matches that Meckwell had, we have:
1 Weimin WANG - Zejun ZHUANG China Long Zhu Open 0.69
2 Boye BROGELAND - Espen LINDQVIST Norway 0.63
3 Claudio NUNES - Fulvio FANTONI Italy 0.60
4 Kalin KARAIVANOV - Roumen TRENDAFILOV Bulgaria 0.59
5 Antonio SEMENTA - Giorgio DUBOIN Italy 0.51
6 Victor ARONOV - Julian STEFANOV Bulgaria 0.49
7 Alejandro BIANCHEDI - Ernesto MUZZIO Argentina 0.45
8 Zia MAHMOOD - Bob HAMMAN USA 2 0.42
9 Vadim KHOLOMEEV - Yury KHIUPPENEN Russia 0.41
10 Michael ELINESCU - Entscho WLADOW Germany 0.25
11 Peter BOYD - Steve ROBINSON USA 1 0.24
12 Ulf Haakon TUNDAL - Glenn GROETHEIM Norway 0.22
13 Eric RODWELL - Jeff MECKSTROTH USA 2 0.22
14 Alexander SMIRNOV - Josef PIEKAREK Germany 0.21
15 Sjoert BRINK - Bas DRIJVER Netherlands 0.21
16 Juei-Yu SHIH - Chih-Kuo SHEN Chinese Taipei 0.18
17 Lixin YANG - Jianming DAI China Long Zhu Open 0.16
18 Simon de WIJS - Bauke MULLER Netherlands 0.09
19 Georgi MATUSHKO - Alexander KHOKHLOV Russia 0.06
20 Per Erik AUSTBERG - Erik SAELENSMINDE Norway 0.05
21 Huub BERTENS - Ton BAKKEREN Netherlands -0.04
22 Kazuo FURUTA - Dawei CHEN Japan -0.05
23 Georgi KARAKOLEV - Diyan DANAILOV Bulgaria -0.11
24 Pablo RAVENNA - Carlos PELLEGRINI Argentina -0.37
Labels: bridge bidding system balanced