"Gossip is the province of small-minded people"
That was the start of the advice of Dear Abby today, to a man who "wears skirts for comfort" but now runs into that "some family members who disagree have talked behind our backs, started rumors and turned people against us with false information". The full column is here:
http://news.yahoo.com/s/ucda/20081231/lf_ucda/mansfashionstatementdrawsderisionfromfamilymembers
Dear Abby (Abigail Van Buren) replied, in part:
Gossip is the province of small-minded people, and it is sad that your relatives have used the fact that you have chosen to be different as an opportunity to spread malicious falsehoods. ... Because fashion trends not only change but often revolve, who's to say you're not on the leading edge of what's to come?
Now I don't wear skirts, in or out of the house, but I do like to wear shorts around the house, and outdoors when it is not a Canadian winter or a work day. However I do "wear skirts" when I play bridge - I use a non-traditional style that poses problems for opponents. I consider this style to be on the leading edge, but I do understand those who might consider it reckless.
I have held off until now for discussing this style as it is dangerous to use, and since it requires a high degree of judgement of many factors, it is not appropriate to players learning the game. For this reason, postings on this subject will be marked "dangerous - not for developing players".
Warning: PROFIT Style is Dangerous - not for developing players

The PROFIT style is led from these principles:
P
robability - take actions that win in the long run, even if the individual application fails
R
epresent - understand that your calls and your cards played represent certain holdings and situations to the opponents, and to partner, and use this representations to your advantage
O
pportunity - quickly recognize opportunities to act - there are many
F
riction - whenever possible introduce friction into the gears of the opponents, so that the easy and routine become hard and unusual
I
mmediate - don't wait to act - act now
T
ake - Take the initiative, take advantage of weakness, take up bidding room.
For those poker players out there, you will recognize some components of the modern approach to the game, especially those reflective of the Gus Hansen style. For those who read military history:
... the fog of war and friction were paramount forces with which the methodology of combat should seek to harmonize, not suppress
(Stephen W. Richey, "The Philosophical Basis of Air Land Battle, Military Review 64.5)
For well-read bridge players, aspects of the style are discussed in the great bridge book: Robson/Segal's "Partnership Bidding in Bridge" (see Dan's site:
http://www.geocities.com/daniel_neill_2000/sys/
)
Now let's look at a hand: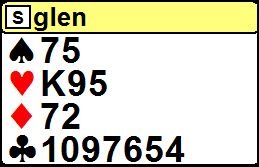 .
.
.
.
.
.
.
.
.
Very exciting, a whole three points.
Even worse, you're vulnerable and the opponents are not. And you are playing IMPs.
Your partner opens 2D, RHO passes, and you are to bid. Alan Truscott's the Bidding Dictionary describes a 3D bid here:
Accentuating the preempt. Opener is barred. Vulnerability is a crucial factor. At favorable vulnerability very weak hands may raise to the three level or more vigorously with a singleton or void.
We are at unfavourable vulnerability here, so the traditional, regular, sensible, safe bid is pass. And this is even more safe and sensible since partner's 2D bid can be a five card suit!
Now let's look at the PROFIT of 3D:
Probability - there are actions that will result in a bloodbath, such as 2D-P-3D-X-All Pass and 2D-P-3D-P;-P-X-All Pass, but most of the time the opponents will not know when to double or when to pass the double.
Represent - by bidding 3D here, we represent a nine card or better fit with some shape - thus the opponents will consider not leaving 3DX in if that is likely the case.
Opportunity - we quickly note that 3D is possible.
Friction - if we pass the opponents will have a relatively smooth auction - if we bid 3D the actions of the opponents are more unsettled - any bid here might be shapely without extras or have lots of extras.
Immediate - if you think a long time, and then either pass or bid 3D, not good. Instead act now.
Take - 3D takes the initiative, and takes up bidding room.
How did the 3D PROFIT bid work at the table?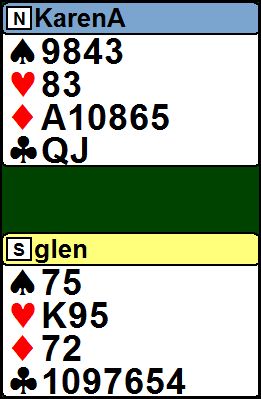 .
.
.
.
.
.
.
.
.
.
.
.
.
.
.
.
.
.
.
.
These were our two hands, and the weak two bidder did have just 5Ds - we were on the three level with just a seven card fit!
3D doubled goes for 1400. Did I warn you this was dangerous?
However my LHO doubled with 4-4-3-2 exactly, and then raised RHO's 3H bid to 4H. This made six, since the heart king was under the ace. It could have been over the ace in other layouts, in which case there would be no slam.
After the hand was over, one of opponents said, openly, that we "just could not care less about playing bridge" - in a way this was true, we do not care to play traditional dull edgeless bridge. However it was sad that some see a guy wearing a skirt in such a poor light.
In the next post, we will look how one plays a hand in the PROFIT style.