Treasure Mine - Systems & Style - Chapter 3 - 2H with less than 8 - Part III
(The recent world championship gives us a treasure trove that can be examined to study systems and style implications for success. For this final chapter of the study we will look at when 2H was opened with less than 8.)
In the round of 16 playoffs there was a less-than-8 hand where the players could have treated it as a "weak two" in hearts, as some of them opened Multi. This was the West hand of the last board of segment 3:


.
.
.
.
.
Partner East had a 3-1-5-4 10 count. In Turkey-Norway, the Turkish East opened that 10 count 1D (their cc does not indicate light openings are possible), the West hand bid 1H, and now NS bid to 4S making 5. At the other table, East passed, and Helgemo decided to try opening 1H with the West hand above. NS bid to 4S, East doubled, it made 5, for +690, and 6 IMPs to Turkey, still behind 110-73.
In Netherlands-Estonia, the Dutch West decided to pass initially - NS got to 3NT down 1. The West at the other table opened 2D, Multi (5+ major, 3-9), NS bid to 4S, East doubled, it made 4 for +590 and 12 IMPs, the Netherlands now ahead 97-71.
In Italy-India, Versace started the bidding with 1H by West - NS got to 2S, making 5, +200. In the other room West passed, the Italians got to 2H using Gazzilli, and made 3, +140, 2 IMPs to India, far behind at 111-45.
There were two 2H bids in the quarterfinals will less than 8. The first was board 28 of the second segement: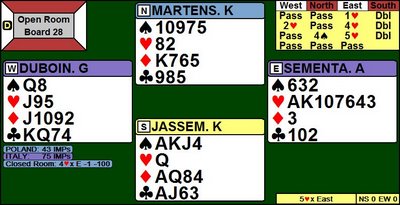 .
.
.
.
.
.
.
.
.
.
.
In Italy-Poland, Sementa for Italy opened the 7 count East with 1H, and when West raised to 2H over South's double, he was willing to compete to 5H doubled, -300.
In the Closed Room, Zawislak for Poland opened 4H opposite the passed hand, played there doubled, -100, and 5 IMPs to Poland:



.
.
.
.
.
In Germany-Netherlands, we don't have the Open Room auction, but NS ended in the vulnerable 4S, making 4. In the Closed Room, East started with 2H: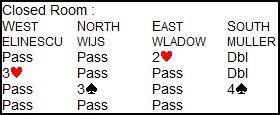 .
.
.
.
.
.
NS got to 4S, making 4 for a push.

The next 2H with less than 8 was on board 25 of the fourth segement: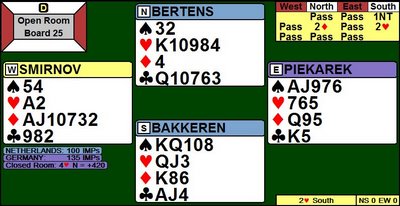 .
.
.
.
.
.
.
.
.
.
.

In Germany-Netherlands, the Dutch North passed, South opened 1NT (14+ to 17-), North transferred and they played in 2H.

In the Open Room, the German NS play 1NT as 11-13, so South opened 1C, and then made a support double showing 3Hs, and if balanced will be 14+. North took a shot a 4H, with chances of making if opposite points, or being a good sacrifice if opposite shape.


.
.
.
.
.
.


4H needs the club finesse on and the suit splits not too unfriendly (otherwise EW can arrange a side suit ruff). +420 was 6 IMPs to Germany.

In Italy-Poland, Verace opened 1NT (15-17) and that got them to 2H:


.
.
.
.
.
.

In the Closed Room Zawislak opened 2H, showing 5+Hs, 5+ minor and 6-10. As usual, when not vulnerable vs. vulnerable, an opening may be light:


.
.
.
.
.
4H made 4 for 6 IMPs.

In England-Romania, Coldea for Romania opened 2H (5+Hs, 5+ minor, up to 10 points - the WBF allowed cc's with vague descriptions for points):

.
.
.
.
.
South took a shot at 3NT, it failed by three, for -150.

In the Closed Room:

.
.
.
.
.
.
.

2D was Multi, described as "Weak 2M or 23-24 balanced" and "(5)6M" - this was one of those "(5)" card weak twos. South asked with 2NT and found North had a minimum weak two in hearts, and stayed in 3H, for +170 and 8 IMPs.