Treasure Mine - Systems & Style - Chapter 2 - 4cM - Part VI of VI
(The recent world championship gives us a treasure trove that can be examined to study systems and style implications for success. For this chapter of the study, 4cM stands for 4 card majors, and our look at the recent world championships will focus on the use of openings that show 4 card majors).
Even with two of the three English pairs using 4cMs, there wasn't much 4cM action in the finals.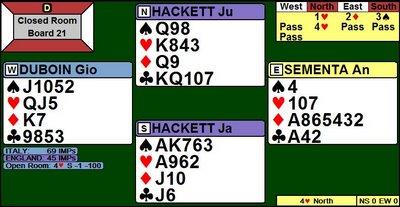 .
.
.
.
.
.
.
On board 21 of the second segment the 4cM opening found the 4-4 fit fast - the jump to 3S was a fit showing jump.
At the other table both North and East passed first, and then it was 1S-2C(Drury-fit for Ss);-(2D)-2H-4H. Both 4H contracts had no play with 2-2 diamonds in NS.
On board 20 of the fifth segment, the Italians used a standard approach of bidding all the four suits, then final park it in notrump: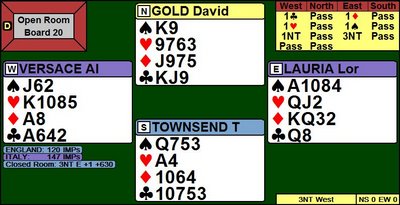 .
.
.
.
.
.
Here we see the Hackett approach - first find 4-3 fits in both majors, then retreat to 3NT:

.
.
.
.
.
Against the Italians, North led a diamond and declarer finished +600. Against the English, South led a club, and in the ending declarer got an overtrick when North discarded a diamond.
Later on board 27 another 4cM opening ends in a notrump contract: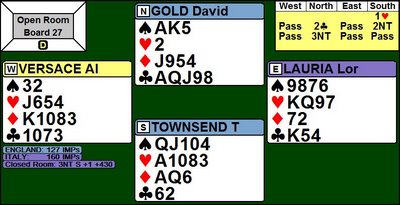 .
.
.
.
.
.
.
In the Closed Room it was 1C(could-b-short-as-2)-2C(inverted);-2D-3H(short Hs)-3NT. The Italians got a heart lead, for +430. The English got a diamond lead, for +460.
Chapter 2 analysis:
4cM were not a direct success factor in the world championships. They are certainly playable.
Negatives include:
- A 4cM opening often delivers less playing value than a 5cM opening with the same point count - responder could misjudge how high to compete.
- Responder under pressure may have to resort to a 3 card M raise, sometimes landing in a uncomfortable 4-3 major fit.
Positives include:
- Fast arrival to 4M can generate IMPs
- Can make other openings more natural (see last board where "suit" Italian opened is 62), or fix system gaps.
What happens much of the time:
Same contract at other table, since all systems have methods of investigating for 4cM fits.