Treasure Mine - Systems & Style - Chapter 2 - 4cM - Part III
(The recent world championship gives us a treasure trove that can be examined to study systems and style implications for success. For this chapter of the study, 4cM stands for 4 card majors, and our look at the recent world championships will focus on the use of openings that show 4 card majors).
Round 8 saw the 4cM approach in the first two boards of the Bulgaria-Poland match: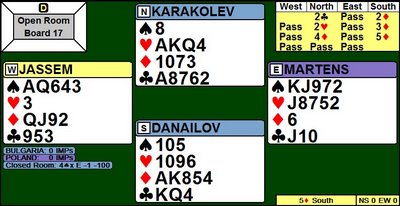 .
.
.
.
.
.
.

In the Open Room the Precision 2C opening prevented East from showing spades, and NS had the auction to themselves to 5D - a nice contract that ran into diamonds offside for down one.

.
.
.
In the Closed Room, EW got to 4S quickly. North didn't know whether to support diamonds at the five level. South didn't know if 3Hs were sufficient support opposite 4+Hs (1C showed 4+Hs, nothing about clubs). As it was, South doubled and picked up IMPs with the contracts failing by one in both rooms.
The next board showed some of the seemingly random swings that occur due to transfer openings.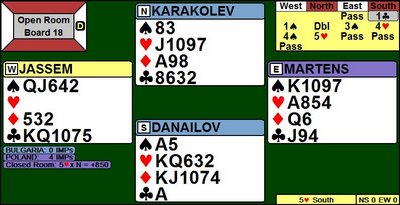 .
.
.
.
.
.
In the Open Room South opened a Big Club and NS eventually got to 5H - 4S by EW was down two if NS managed the club ruff. 5H hinged on the diamond guess, and at this table declarer played West to have it.
In the Closed Room:

.
.
.
.
1C showed 4+Hs, 2H was spades and a minor (Michaels) and double by South showed extras. Here in the play West started diamonds at some point, picking up the suit for declarer, and 14 IMPs to Poland.
We jump all the way to round 15 before seeing big IMPs exchanged with 4cMs. East for Portugal opens 1S, and in four total bids, 1S-2C;-2D-4S EW reach the 4-3 spade fit, failing, instead of making 3NT at the other table: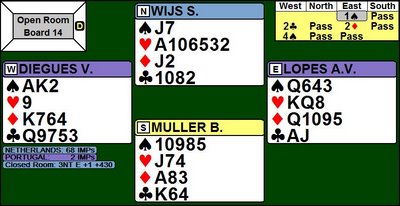 .
.
.
.
.
.
Perhaps East was expected to rebid 2NT if a flat hand, or perhaps West has to bid slower over 2D to allow East to show the hand type.
In Round 17, Norway battled Poland: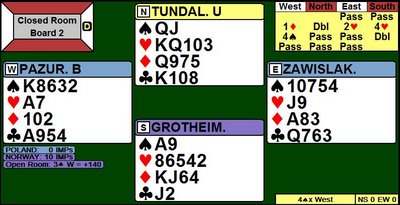 .
.
.
.
.
.
1D showed 4+Ss. Now we were supposed to focus on 1st and 2nd seat 4cM openings, but I've included this to show style considerations. East showed a 6-8 raise to 2S with 4Ss, and West, with only 11, took at stab at 4S as a mite-make/mite-b-cheap proposition. On some other layouts, 4H could make, but on those 4SX would be quite expensive. I think EW are over-competing on a nine card fit with no singletons/voids. Is this a fallout of their 4cM style? - that is, if 1S was usually 5+, would the West hand take another bid over 4H?
The round of 16 was quiet for 4cMs - either the 4cM opening found a nice fit or there was none - either way there was nothing much to report, aside from the hand where Meckwell used a four card overcall over the 1D 4+Ss opening - this was reported in the October 12th posting, and is more of question of how to compete than about the 4cM style.