Step right up
A failure to cover produced a step on this speedball hand: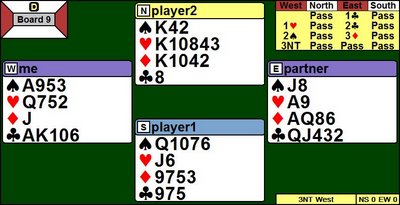 .
.
.
.
.
.
.
I got the 4 of hearts lead against my 3NT, which went to the 9, jack, and queen. I played the jack of diamonds, not covered. A spade went to the 8 and ten, and the 6 of hearts came back, 2, 3, ace. Now I ran clubs, reaching this ending with the last club to play:
.
.
.
.

On the club queen, North had to keep the heart king, and the two diamonds, and thus discarded down to one spade. Now I played a spade to the ace, and exited with a heart, to get the last two diamonds.