Treasure Mine - Systems & Style - Chapter 2 - 4cM - Part II
(The recent world championship gives us a treasure trove that can be examined to study systems and style implications for success. For this chapter of the study, 4cM stands for 4 card majors, and our look at the recent world championships will focus on the use of openings that show 4 card majors).
Round 4 saw the New Zealand-Spain match and board 27: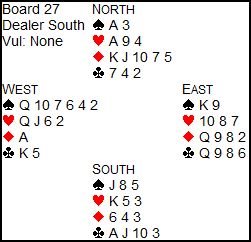 .
.
.
.
.
.
.
.
Reid, West for New Zealand, opened 1D showing 4+Hs, can have a longer second suit. North passed, and East raised hearts to 2H. Now West bid 2S to show longer spades, and extras (they open quite light), so they had a way out of the 4-3 fit and into the 6-2 when opener had enough to bid again. Now North decided to come in with 3D, which only went 1 down and gained 2 IMPs compared to 2S making in the other room - some days 3D will be doubled and down a bunch.
At the end of the match, the New Zealand West had: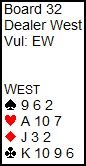 .
.
.
.
.
.
The auction was 1D-1S-?, with 1D showing 4+Hs. West bid 2H. The actual result of this hand is not important (the decision for NS is to play 3S or 4S and the play is complex), but I've included it to show how even flat hands with just 3Hs will raise the 4cM opening.
We now bounce to round 7 and the Australian-Germany match. This was board 4: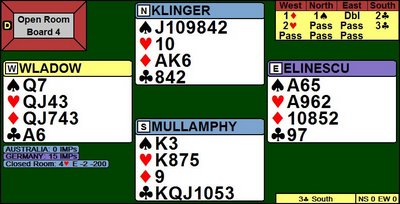 .
.
.
.
.
.
With a minor suit opening, East used a negative double and East-West found the heart fit - however when South rebid 3C, East did not compete further - why? - 1D was 1+D 11-15, often 12-14 balanced, and thus East did not know of the double red fit. 3C made for +110.
Now for the closed room auction:

.
.
.
1D showed 4+Hs, and 2S was a cuebid for Hs with the four card support - this seems like a stretch but East must have liked the two bullets (aces) - West showed the second suit, and East bid to the awful 4H, down 200. Still this was only 3 IMPs, given NS had +110 in the other room.
Board 7 of the match had a bigger swing: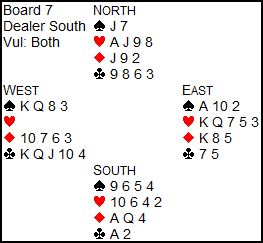 .
.
.
.
.
.
.
Here's the bidding and the play: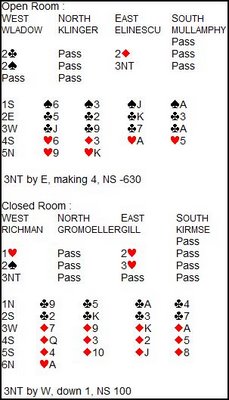 .
.
.
.
.
.
.
.
.
.
.
In the open room, West opened a Precision 2C (some pairs would prefer opening 1D with just 5Cs) - East asked with 2D and got to 3NT - South led a spade, giving declarer 8 tricks, and when South got in with the club ace he switched to hearts, establishing declarer's 9th and 10th tricks.
In the closed room, 1D was 4+Ss (can have a longer minor) - 2H by East transferred to 2S and showed some values, and then 3H was natural. NS started clubs, the best suit for EW - when declarer won the second club, he played a diamond to the King - this gave NS three aces and two other diamond tricks, and 12 IMPs to Germany.