Treasure Mine - Systems & Style - Chapter 1 - Australia USA - Part 2 of 3

(The recent world championship gives us a treasure trove that can be examined to study systems and style implications for success - we are looking at Australia USA here)
Board 5 saw a 5-over-5 bid by Meckstroth. First before we show the hand let's go over their notrump defense. Over as a strong NT, it's Meckwell:
Double: a minor, or both majors, or big.
2C/D: this minor + a major
2H/S: natural
Over a weak NT:
Double: 14+
2C: Ss and either Hs or Cs
2D/H/S: as over strong NT
2NT: good majors or Cs
3C: Hs + Cs
While 2D has the same Meckwell meaning over strong or weak notrumps, the style Meckwell uses over weak notrump is different - they want their overcalls of weak notrumps to show playing strength - over a strong notrump it can be used as a blocking disruptive bid to just get the opponents out of 1NT - over a weak notrump it is used to show a hand that might combine well with partner's to produce game. While Steve Robinson when commentating in other match, expressed the view that game was unlikely after the opponents open a weak notrump opening, this is not accurate - perhaps he meant game was unlikely if one wasn't shapely.
Now here's board 5: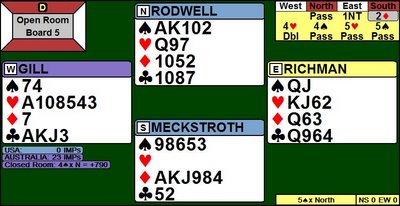 .
.
.
.
.
.
.
Meckstroth overcalled 2D, showing diamonds and a major, Gill jumped to 4H to play, and Rodwell bid 4S, which should be partner's major (unless West made a quite clever white-versus-red psyche of 4H). Notice that Rodwell is bidding this on a 4-3-3-3, no ruffing value, and no fitting diamond honor. Now Richman, with a bunch of junk, bid 5H. It turns out one should pass the junk - does East really think this ace-less hand is going to help partner much? 5H bumps Meckstroth into 5S - void in hearts, a 6-5, should have play. Two clubs were cashed, but diamonds were picked up, and that was +850 Meckwell.
Here's the action in the other room: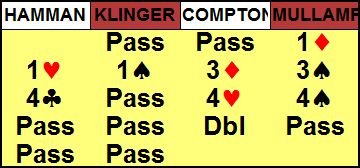 .
.
.
.
.
.
At Compton's final turn to bid, I have no idea why he is doubling, unless he believes he is in a forcing pass situation - that is since they freely bid 4H, when the opponents bid 4S, Hamman's pass of 4S is "forcing", and requires partner to double or bid again. This hand shows why "I have nothing more to say" passes are superior - just because you can make 4H, doesn't mean 4S (or even 5S) by the opponents is going down. Passing 4S would have won the USA 6 IMPs - here the double reduced the gain to 2 IMPs.
We returned to the big swings on board 6: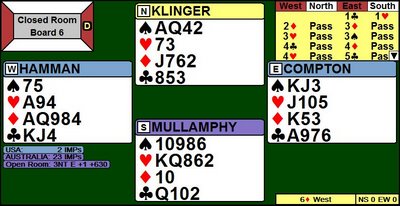 .
.
.
.
.
.
.
In the Open Room, Richman opened the East hand with a weak notrump, and West just bid 3NT, making 10 tricks for +630. In this room Compton and Hamman launched an odyssey to 6D - it was certainly oddest that these two flat hands should propel themselves to this level. This was the auction 1C-(1H)-2D;-3D-3H;-3S-4C;-4D-4H;-5C-6D
For a successful auction, at some point East has to show a balanced hand, to frame the hand as a 12-14 flat hand type. The best spot for this should be 3NT over 3H, if the partnership would allow this on a partial stopper, after not bidding 2NT on the previous round. Once East bid 3S, he painted the wrong picture to his partner. Flat hands need to strive to bid notrump, and partnerships need to have allowances for this, such as only having partial stoppers.
After 13 IMPs on this board, Australia were running away with the match, 36-2.