Finals - Set 5 - Italy holds up
This is the biggest swing so far in set 5.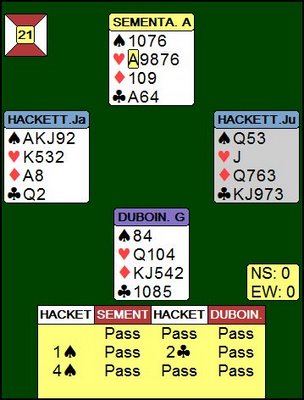 .
.
.
.
.
.
.
Both rooms reached 4S, and both got the heart ace lead, and a switch to the diamond ten. In this room Jason Hackett won the diamond, ruffed a heart, played a club to the queen, ducked by North, and continued a club, won by North. Now North played his last diamond to South who played another diamond, and the contract was doomed - if declarer ruffs high, North discards a club and the spade ten will win a trick at some point. In the other room Versace made the good technical play of holding up on the diamond ten (not winning the first diamond). Later, when North was in with the club ace, he was out of diamonds to play to South and the contract made, for 10 IMPs to Italy.