Bread N' Butter Part VII
This is Part VII of the Bread N' Butter series: a look at Meckwell bidding in the last world championship when one of them had 10 to 17 balanced, either in opening position, or directly over an opponent's opening. We will consider balanced as any 4-3-3-3/4-4-3-2/5-3-3-2, plus any hand that Meckwell treated as balanced.
The big match of day 5 for USA2 was against Italy. There was a balanced hand on the first board: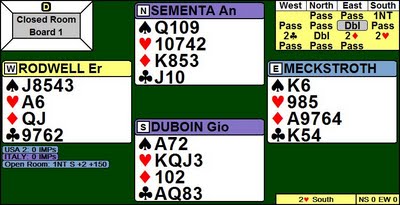 .
.
.
.
.
.
Meckstroth with a nice 10 count in second seat passed, but even though balanced, wasn't willing to sell out to a third seat 1NT. Double showed either both majors or a minor. Rodwell found out the hand type by bidding 2C, but this got doubled for takeout and the Italians were able to find a 2H contract for +140. This was a push as in the quieter room Zia, South, played in 1NT for +150.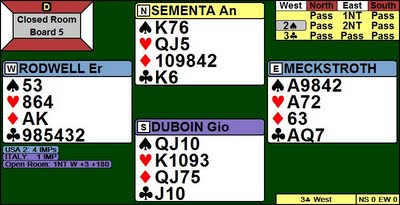 .
.
.
.
.
.
On board 5, Meckstroth opened 1NT, 14-16. Rodwell bid 2S, their range check and minor device, over which opener bid 2NT to show a minimum. 3C was to play, +110, losing 2 IMPS, as the auction in the other room was 1S-1NT (semi-forcing), and that was +180.
The last of the hands under review for us was board 8: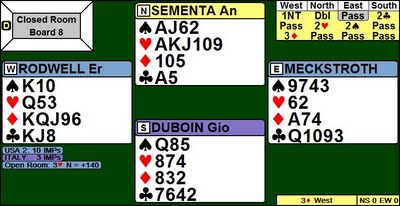 .
.
.
.
.
.
Rodwell opened a 14-16 1NT, and Sementa doubled to show 4-3/3-4+ in the majors with values, or a very strong hand. Meckstroth passed, which asks partner to redouble, often a runout with two touching suits (Ss & Cs would be touching too). Here South started running first, bidding 2C, and Sementa introduced hearts. Meckstroth now bid 2S, which would represent only 4 as he would have shown spades on the first round with 5 or longer. It also showed competitive shape, and Rodwell was able to now bid 3D, making for +110. In the other room this was the bidding:

.
.
.
.
Zia passed the value showing double, then retreated to 3H when 3D was doubled. This made for +140 and 6 IMPS to USA2, who won the match 29-4 in IMPs, 21-9 in victory points - more than twice as much victory points than IMPs for the Italians.
Labels: bridge bidding system balanced