Bread N' Butter Part II

This is Part II of the Bread N' Butter series: a look at Meckwell bidding in the recent world championship when one of them had 10 to 17 balanced, either in opening position, or directly over an opponent's opening. We will consider balanced as any 4-3-3-3/4-4-3-2/5-3-3-2, plus any hand that Meckwell treated as balanced.
The Meckwell system notes run hundreds and hundreds of pages, though in recent years a few pages have been tossed with the elimination of both Multi (no strong option) and mini-notrump in certain circumstances. Yet having those notes wouldn't do you that much good without knowing how to use the system - even more important than knowing the meaning of a bid is knowing when to employ it. I think that's one of the primary reasons that Meckwell have kept a tight rein on their system. If their system notes were used indiscriminately, without understanding the style and judgment necessary to use it, the results could be somewhat dismal.
One objective of this series is to look at the style and judgment on average balanced hands that Meckwell brought to the table at this year's Bermuda Bowl, and that help propel them to world champions once again. In round 6 against Norway we see some key examples of the Meckwell style with balanced hands.
On the first board of the match Meckstroth opened one diamond in second seat with 11 high card points.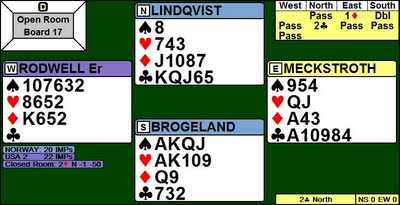 .
.
.
.
.
South doubled, and Rodwell, comfortable with diamonds and not having much in points, passed. It is not necessary to bid up a storm to dissuade your opponents from bidding game - sometimes just opening at the one level can do it. When North bid two clubs, South took the low road and missed three notrump. How much did Meckwell gain here?
Well they lost 4 IMPs.

.
.
.
.
In the other room East opened a natural one club, and Zia doubled, West, not at all comfortable about clubs, transferred to spades, and Hamman passed to await developments. When East's one spade came back to him, he now bid two diamonds, but Zia, even with four spade stoppers, didn't want to try for three notrump with three little clubs. 2D was down one after declarer played clubs early. Picture the North-South auction if East doesn't open in one of the rooms.
Three boards later we see a typical auction in the other room.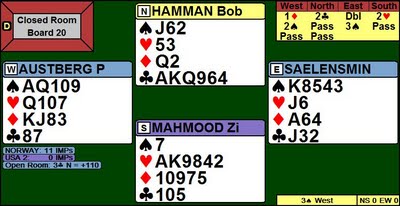 .
.
.
.
.
.
West opened a natural one diamond, Hamman overcalled, and East made a negative double, knowing if partner bids two hearts, he can now bid two spades showing five or longer spades but a hand not good enough to bid two spades directly over two clubs. Zia introduced hearts over the double, in a situation where some would play transfers (in that case a transfer to hearts would either be natural with hearts and/or lead directional in hearts with a club fit). West competed in spades, and East had just enough, including a fifth spade and ace third of diamonds, to need to invite. This was down one.

.
.
.
In the Meckwell room, Rodwell opened one diamond, showing two or more. When North overcalled, Meckstroth stayed out of the bidding, even with nine high card points. North-South ended in three clubs, making, for a push.
The next board had Meckwell not even trying for game while the opponents tried four hearts. How do you think a game fared that Meckwell did not even sniff at? Four hearts was doubled, down 2, and that was 9 IMPs for USA2.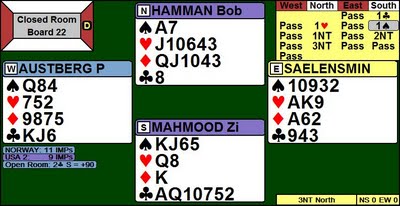 .
.
.
.
.
.
On the next board, Hamman and Zia reached 3NT played by Hamman, a contract that has brought in zillions of IMPs over many decades. However the black suits didn't cooperate, and the communications between the two hands were tenuous, and the contract ended down three. The alert on the one spade was that it was natural but promised an unbalanced hand - with a balanced hand, they rebid in notrump even with four spades.

.
.
In the Meckwell room, Meckstroth opened one diamond with the 4-3-3-3 11 count. When South overcalled two clubs, nobody saw a reason to bid, and this made, giving 6 IMPs to Norway.
On board 26, the last board of this match for this series, Meckstroth opened one diamond, this time with a maximum point count for a balanced hand in their one diamond opening in first or second seat. In the old days you needed 13 points to open - now 13 points is a maximum!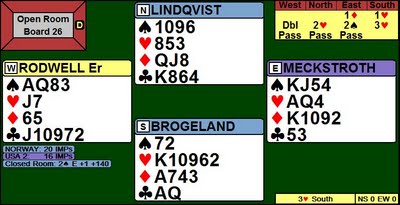 .
.
.
.
.
.
South overcalled one heart, Rodwell made a negative double to show four spades, and now both sides raised their major suit, and South made a competitive bid of three hearts. He has a small doubleton in spades, and strong working cards in each of the other suits. However he only has five hearts, and no singleton/void, which, in terms of the Law of Total Tricks, suggests passing two spades. This type of decision shows why expert partnerships try to accurately define the two heart bid over the negative double, some using this bid only with a weak hand or only with constructive strength, and some use a jump bid of some sort over the negative double to show a mixed raise, having four trumps with constructive values, in order that the two heart bid can deny that.
Three hearts was down two, -200. In the other room Hamman showed their methods for keeping two hearts well defined: he passed the negative double. This allowed the opponents to play two spades, and USA2 gained 2 IMPs. Norway won this low scoring match 24-22, but that was a tie in round robin scoring victory points 15-15. Norway was content with the victory point tie as they were in first place after the initial two days, while USA2 was holding down the seventh of eight playoff spots.