Bread N' Butter Part I
This is Part I of the Bread N' Butter series: a look at Meckwell bidding in the recent world championship when one of them had 10 to 17 balanced, either in opening position, or directly over an opponent's opening. We will consider balanced as any 4-3-3-3/4-4-3-2/5-3-3-2, plus any hand that Meckwell treated as balanced.
The first match we have records for USA2 in the world championships is in round 3, against USA1, in the last match of day 1. The format of the round robin is to match teams from the same zone relatively early, in order to reduce the possibility that a team that can't qualify might throw a match to assist another team from the same zone - see related discussion about F1 racing today.
This match had plenty of Meckwell style viewpoints on flat hands.
(To see the 11 IMPs lost on board 1, click here:
http://cuebiddingatbridge.blogspot.com/2009/09/what-heck.html
)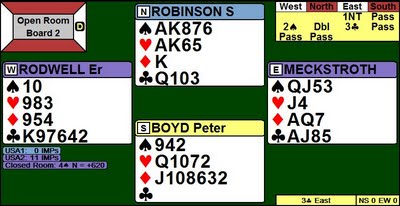 .
.
.
.
.
.
.
On board 2, Meckstroth opened a 14-16 1NT, and Rodwell responded 2S, their range ask. 1NT-2S handles both the invite with no 4cM (1NT-2NT in standard), and a transfer to clubs. Unlike those who play 1NT-2S as a transfer to clubs, opener here does not show whether they like or don't like clubs - its just 2NT with a minimum, 3C with a maximum.
One problem with 1NT-2S as artificial, as most do, is that it can be doubled showing spades, as it was here. Now one of the best approaches is to pass with decent spades, allowing responder to redouble to ask opener to rebid as usual: 1NT-2S-(Dbl)-P-Rdbl asks opener to bid as if double and pass were not made. Here Meckstroth bid as if the double did not exist, 3C showing a maximum 14-16 1NT opening - this had the advantage of giving the opponents only one more bid each, before he was left to play in 3C, just making. The commentators thought that Robinson's club holding was a reason for not bidding again, but given EW have at least an eight card club fit (aside from rare exceptions), the North hand works opposite most South hands with at most two clubs.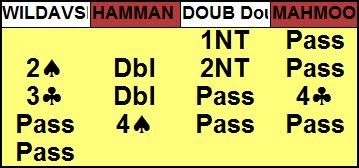 .
.
.
.
.
At the other table 2S was also a range ask (and/or clubs), and it also got doubled. Again here the double was ignored, and 2NT showed a minimum notrump. However the really strange thing is that the Doug Doub - Adam Wildavsky partnership are weak notrumpers: 1NT was supposed to be 12-14, and here 1NT is being opened with 16!
Here, facing what he is told is a minimum weak notrump, Hamman doubled twice, and Zia made a nice 4C "pick a spot" bid. Against 4S East led the club ace, ruffed. Now Hamman played play a diamond to the king, and ace, and when East tried to cash the diamond queen, the contract was coming home, and that was 12 IMPs to USA2. If East had found a small spade away from the QJ after winning the diamond ace, then the contract would have been down.
On the very next board we see an Italian style double by Meckstroth: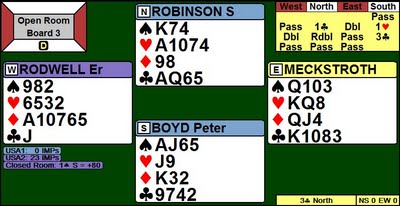 .
.
.
.
.
.
Sometimes this particular style of double, on a flat hand, is called a Bramley, after the US expert who thinks doubling early is better than waiting until later to come into the bidding. However Bramley was commentating at the time, and said "my kind of double - actually, this one is a bit much even for me".
Meckstroth has several concerns on this hand - he is vulnerable against not, and he is opposite a passed partner, and he has no aces, so there is almost no chance of reaching and making game on this hand - double is just fighting for a part score contract, one that could be down 100 a trick.
If you want to see Rodwell double on a flat hand, red vs. white, opposite a passed hand, see page 4, board 2, of
http://www.cavendishinvitational.com/2009/SATBULL2009.pdf
I like Meckstroth's double. If you got to get in, get in early. With 4 clubs in hand, and RHO opening 1C, partner will usually have a suit to bid, often five or longer. However the double is risk if playing standard takeout double responses, where a jump suit bid (e.g. 1C-Dbl-P-2H) can be just 4 cards, albeit with some values. Instead I recommend jump suit replies to the takeout double always promise 5 or longer, thus landing in an eight card or better fit, and that a jump to the two level only promises about 6 to 10 high card points. With just a four card suit, either don't jump, or with invite or better values, cuebid. This means a non-jump reply to a takeout double will be wider ranging than standard, but opener will know it is not that shapely if 6 or more points.
After the double, South transferred to spades, Rodwell doubled to show hearts, North redoubled to show exactly three spades, and South invited with 3C. This ended down one, where in the other room EW were silent, and 1C-1S was all the bidding, +80, and 4 IMPs.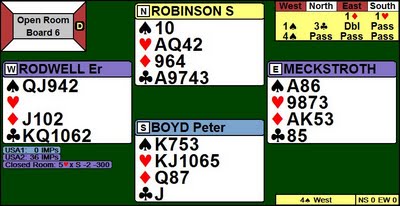 .
.
.
.
.
.
On board 6 Meckstroth opened an 11 count with 1D - a nice AAK 11 this time. South overcalled 1H, Rodwell bid 1S showing five or longer spades, North jumped to 3C shows clubs and the heart fit, Meckstroth double to show exactly three spades even though dead minimum. This got Rodwell to take a shot at 4S, which was down 3, that would have been a nasty -800 if doubled.

.
.
.
.
In the other room, the East hand passed, and West opened: 1S-Dbl-2H-4H-4S-5H-Dbl. 2H was a good spade raise, and Hamman's 5H bid was costly, -300 and lose 12 IMPs.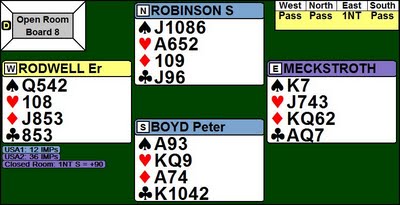 .
.
.
.
.
.
On board 8, Meckstroth opened a 14-16 1NT in third seat, and played there and went down one. South didn't have a pure value showing double (double would be 4M & 5+minor or one minor or strong hand), and had to take the risk of passing - it was risk, since Meckstroth would upgrade some 13s into the not vulnerable third seat 1NT, and North South could have game on power.
In the other room, East, playing a weak notrump, opened 1D, and Zia overcalled 1NT, making for 1 IMP.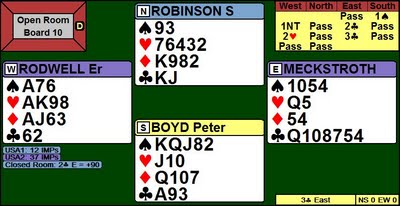 .
.
.
.
.
.
On board 10 Rodwell overcalled a 1S opening with 1NT (15-18) - after the overcall the runout to clubs started with 2C, Stayman, and then a non-forcing 3C bid. In the other room West doubled 1S, and East played in 2C making, With 3C down 1, that was 5 IMPs to USA1.
On board 13 Meckstroth held: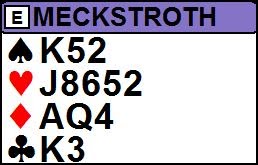 .
.
.
.
.
He opened 1H. Does it look like he had extras? Rodwell responded 1S, Meckstroth rebid 1NT, and lost 1 IMP as the other room made an overtrick in the same contract.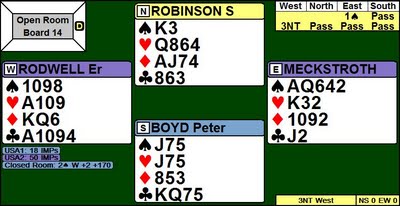 .
.
.
.
.
.
The reason I asked if Meckstroth held extras, was on the very next hand, Meckstroth opened a "11-15" first seat 1S on a flat 10 count. Against upgrading is the unsupported club jack and the flat hand. For it would be a nice AQ spade combo in a long suit, and the T9 of diamonds. Rodwell jumped to 3NT over 1S, showing a 4-3-3-3 with 3 spades and game going values, and here they were in a Meckwell 23 point 3NT. On a heart lead, Rodwell was able to set up spades with one loser, and knock out the diamond ace: 4Ss + 3Hs and a trick in each minor was +600. In the other room, East passed, West opened a weak notrump, and they played in 2S, making 4, and losing 6 IMPs.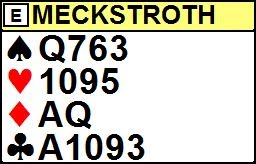 .
.
.
.
.
On board 15, Meckstroth had this flat hand at favorable, and it went P-P-1NT(14+ to 18-)-?. He did not use DONT here (2C with Cs and major), but instead passed, and both tables played 3D by North South for a push. The match was a 56-18 win for USA2.