The Winners will be Blogged but the Losers not Flogged

Yesterday in the penultimate Bermuda Bowl session, the pair who could not bid spades were overtaken by another pair who could not bid spades: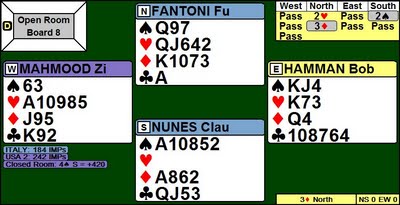 .
.
.
.
.
.
2H was (9)10-13 with 5+ hearts unbalanced - good 13s will upgrade out of 2H. Sadly 2S did not show spades, but just asked. 3D showed 4Ds and exactly 5Hs (usually), and will be either 3-5-4-1 or 1-5-4-3 (2-5-4-2 will open 1NT in their system). South did not want to risk a re-ask in case opener didn't have three spades, so they played in 3D to lose 10 IMPs. At the other table Meckwell bid 1H-1S;-2D-3D;-3S-4S.
Sartaj Hans did a good summary of the Bermuda Bowl finals here:
http://theimpchimp.blogspot.com/2009/09/winner-takes-it-all.html
The "mis-saw" hand was discussed by Ken Rexford here:
http://cuebiddingatbridge.blogspot.com/2009/09/not-sure-what-happened-here.html
and see the first comment by Paul.
The basic take-away point from the Bermuda Bowl is if you want to win the event, don't gift your opponents with lots of IMPs. Sadly this storyline, beyond some initial amusement factor, makes for poor bridge discussion when it is relentless repeated, and I'm not going to cover all the errors which formed the single critical success factor in the match - perhaps instead of single I should call it the double digit success factor.
BBO revamped their archives, and there is an excellent set of vugraphs here for watching and re-watching the world championships:
http://www.bridgebase.com/vugraph_archives/vugraph_archives.php
(btw if you download the Icelandic Cup Semi Final you can watch the Hrannar-Sveinn partnership play Spry yesterday)
The world championship bulletins were excellent as usual, found here:
http://www.worldbridge.org/tourn/SaoPaulo.09/Bulletins.htm
Congratulations to Chief Editor Brent Manley and all the journalists for terrific coverage of the championships.
My detailed look at the world championship will focus this year on world champions again Meckwell, and what happened when they had a balanced hand in the 10-17 range. This will go for days and days, so please skip this blog if you want the "car crash" and "ball dropping" sport stories that the Bermuda Bowl was about. However if you want to see the bread-n-butter of the Meckwell system in action, please stay on this bridge channel, and use the comments feature to add information or to raise questions.