Audrey Grant points
Karen and I use what we call "Audrey Grant points" or "length points", which simply is to take the high card points, and then add a point for every card in a suit longer than 4. In a practice match last night, a Mr. Audrey Grant hand had a couple of these length points.
Now I should note Mr. Audrey Grant hates to be called that. Would you call Brad Pitt, Mr. Jolie? No, not proper etiquette, which brings to mind Audrey Grant's best non-bridge book: Ex Etiquette, or in other terms, "how to be nice to your Xs" (Y U SOB etc.). One day I hope this book is given a bridge version: Ex-Partner Etiquette and SOB Redoubles.
The Audrey Grant squad have a great site at:
http://www.betterbridge.com/articles/index.html
This link will take you right to their articles section, and if you click on TWO-OVER-ONE at the left, you will get a series of articles by Eric Rodwell. One of Eric's articles is the "Principle of Fast Arrival", where he notes:
One advantage of going directly to game without make any 'extra' bids is that it gives less information to the opponents. They may not get off to the best opening lead, and they may have difficulty finding the best defense thereafter. There is also the preemptive factor. Jumping right to game makes it tougher for the opponents to come into the auction with an overcall or double.
In an Argentina-Canada practice match last night, the Argentina jumped right to 4H on the West hand: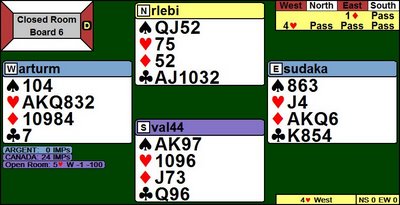 .
.
.
.
.
.
This had 10 red tricks.
At the other table, David Lindop was West. For a brief bio on him, see the Better Bridge team at:
http://www.betterbridge.com/aboutus/team.html
This bio actually understates Lindop's vast contribution to bridge education. His "technical support for the Better Bridge product line" includes developing thousands of example hands for bridge teaching, and verifying the technical accuracy of everything taught to the students in "books, TV shows, lectures and the magazine". Thus, I think 'Mr. Audrey Grant' is a great complement, but just so you know, he hates it, and you can use it to needle him at the bridge table, which is necessary to have any hope of winning a match against him.
Lindop did not use fast arrival at the table, since other contracts than 4H might be possible, including slam in hearts and/or diamonds. Instead he responded 1H, and this allowed North-South into the auction: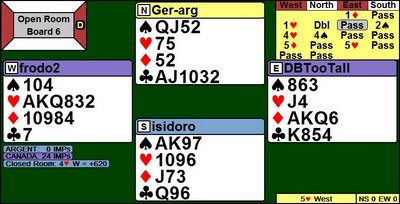 .
.
.
.
.
.
5H was down 1, and 12 IMPs to Argentina. Thanks to their 24 IMPs fast start, Canada still had the match win (I think Argentina forgot to needle Lindop). This hand shows how a "one step" fast arrival can deliver IMPs.
Mr. Karen Ashton has been trying out a compromise method on these hands. Over 1D, a jump to 3H shows 6+Hs, game force but not much extras, and can be playing value including "Audrey Grant points" to make up the strength for the game force. Now opener still has a little room to investigate, and can suggest 3NT as a possible spot.
On the hand above, a 3H jump is high enough to keep North out of the bidding, and 4H is quickly reached. Where it is nice is in this sequence: 1D-P-3H-Double;-P-any-?. Now responder can make a forcing pass, or can bid to further describe. On the very fast arrival sequence 1D-P-4H-Double;-P-any-? responder does not have that forcing pass. I don't believe one should jump to 4H if it could often result in you having the last guess - for example if it goes, 1D-P-4H-4S;-P-P-?, if you are now guessing whether to pass, double, or bid 5H, you should not have bid 4H in the first place. For Mr. Karen Ashton, if it goes 1D-P-3H-4S;-P-P-?, I know Karen did not have a penalty or "stop bidding please" double of 4S, and thus the etiquette of the auction is much more agreeable.