Playing Profitably
On a random and infrequent basis I update my non-bridge blog, which I just did a few minutes ago:
http://www.bridgematters.com/glenashton/blog.html
Some combine everything into one blog, and I quite enjoy that - you never know what a post will be - however I'm going to keep this blog bridge related, so when I can't come up with a viable or tenuous reason to relate a topic to bridge, I'll post in my other blogs.
Now back to bridge and the PROFIT principles: Probability, Represent, Opportunity, Friction, Immediate, Take.
One note about PROFIT it is, by necessity and probability, adaptable. If you read the last post, you might think, the next time those dastardly Ashtons bid 2X-3X, we are going to double them and light up the sky with fireworks (btw we had a beautiful fireworks display New Years Eve 200 feet from our house - with a -29C/-20F wind chill it was nice to watch indoors from a window). However if we find people, or a certain set of bridge blog readers, returning to penalty and cooperative doubles and nailing us, we will adapt by better hand selection of our 2X and 3X bids - this is the probability of PROFIT - what is the % that something works against it fails.
Warning: PROFIT Style is Dangerous - not for developing players
The reason why playing in a PROFIT style is dangerous for developing players, is that developing players should first focus on the technical "hard" details of the game (such as taking all the tricks that you are entitled to) before getting into the "soft" skills of this style.
Let's look at a hand played in PROFIT style. I sub halfway into a tournament, open 1NT in fourth seat, get raised to 3NT, and play there on a heart lead: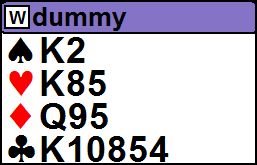 .
.
.
.
.
.
.
.
.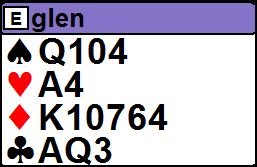 .
.
.
.
.
.
.
.
.
I win the heart ace at trick one, and advance the club queen. LHO hesitates, and then follows low. Does this mean they have the ace? - no we have that card! This is a typical bridge hesitation - it might be to give partner time to digest the setup and it might be to figure out the right spot card to play, but it is never a clear "tell". Note I start with the club queen to disguise, temporarily, what is happening - we want the opponents to have to shift gears mentally several times while defending the hand - this is friction during the course of the hand.
I continue with the club ace and run clubs when they split 3-2. This is speedball, but even in live bridge you want to do this at a quick tempo: you needed to have formed a discard plan at trick 1, so that your thoughts on discards don't telegraph your intentions.
Now we want to use the diamonds, but if we just discard spades, the opponents will figure out what to do quickly. So I will discard a diamond early, but which diamond?
We don't want the opponents to be concerned about diamonds, so we pick the highest spot to discard, as if it was our lowest diamond - this is the represent of PROFIT. In a quick tempo, the opponents will not fully process the implications of this spot card, but it will leave a suggestion, a fleeting impression, that the diamond suit does not have a lot of low cards to setup.
The two discards are the diamond seven first, the influencing discard immediately, and then a low spade. Each opponent discards a diamond after our diamond seven discard.
Now I play the diamond queen, knocking out LHO's ace, and he returns a spade, which runs to RHO's jack and my queen. I'm now able to run diamonds, and then the spade ten and dummy's hearts squeeze for the 12th trick and a 99% score.
Now if you look at the complete picture, you would see that the opponents have made errors. That's the nature of PROFIT - you take advantage of opportunities, but whether they happen will depend on how the opponents react.
When we look at PROFIT in further detail, we will see this theme repeated constantly - the opponents could have stopped it, but didn't. However PROFIT is not about being academically optimal in the university of hindsight, but instead it's about the rewarding pillaging of the villages on the road to bridge success.