A couple of Lavazzas
Here are a couple of wild espresso boards from team Lavazza, as they got knocked out of the semis of the International Teams Tournament Monte-Carlo 2008 on Sunday.
On board 12 of the last segment: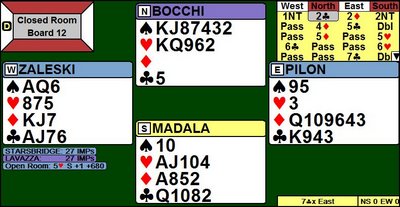 .

.

.

.

.

.

When was the last time you saw a pair open a strong 1NT, and then sacrifice at the 7 level against the opponents' slam? Okay, the slam was off two aces, assuming West would try to cash them at tricks 1 and 2. That's why you don't see bids like East's 7C too often. Another reason was -1400. 7C doubled was down 6, and with 680 for 5H making six in the other room, that was 12 IMPs to the Italians (well 3/4 Italians).
The last board of the match featured Bocchi-Madala hunting for a slam: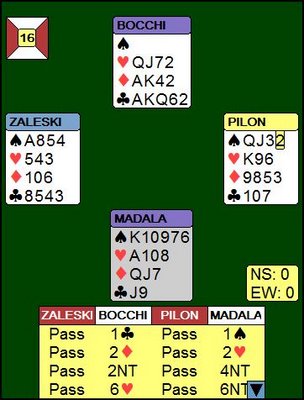 .
.
.
.
.
.
.
.
.
.
.
6NT was cold by South with the heart finesse working. Played by North, it was down on a lead from the QJ of spades - that is I mean leading either the Q or J. East masterminded the small spade lead, and Bocchi counter-masterminded with the spade king from dummy. This has shades of Grosvenor (see:
http://www.bridgeworld.com/default.asp?d=bridge_glossary&f=glossg.html
) - Bocchi played East to have underled the spade ace (he might have), instead of playing him to have underled the spade QJ. That was down two, compared to the mere down one of leading a top spade.
In the other room the French pair got to 6D: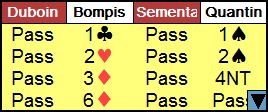 .
.
.
Sementa led a trump and this made for 14 IMPs, allowing the French to win the semis, and the Starsbridge team (Zaleski, Quantin, Bompis and Pilon) obtained the gold medals (okay, gold trophies) in the final.