Just before the 17 IMPs disaster (see previous post), the USA lost 12 IMPs
here: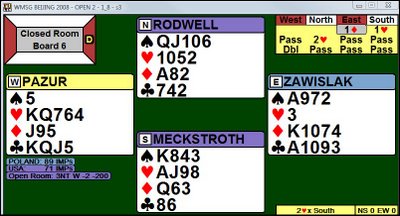 .
.
.
.
.
.
.
East opened 1D, which looks natural, but actually shows 4+ spades (and says nothing about diamonds). Meckstroth, white-vs-red vulnerability and with length in opener's suit, decided to make a four card suit overcall of 1H - for an interesting discussion see this thread on rec.games.bridge "
Refuting Mike Lawrence's theory on 4-card overcalls
":
http://groups.google.ca/group/rec.games.bridge/browse_thread/thread/bcb566f953f72d17/d12acb0682bc9517
When opener and overcaller both have length in the opening suit, this means responder and advancer (overcaller's partner) will be relatively short there and longer elsewhere. The bad hand for this set up is when responder is short in opener's suit and long in overcaller's, while advancer has just enough to raise the bidding level. After the 1H overcall, West passed, North raised to 2H, and West was able to double this for penalty. That was +500 to Poland. In the other room, 3NT by EW had no play on a spade lead, and that was 12 IMPs to Poland, the start of 29 IMPs on two boards.