After Meckstroth had gone down in a makeable 4 spades (and that the Vugraph records show an ending where he would have had to make it unless he forgot the cards out, thus I can't blog it without finding out how the records are wrong), the USA picked up 15 necessary IMPs here: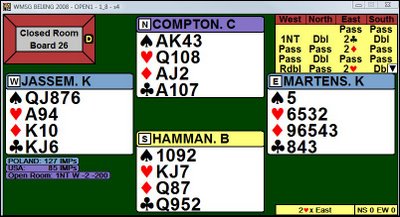 .
.
.
.
Note how it works to have the agreement that after a 3rd seat 1NT, double is values by 4th seat - after pass-pass-1NT-?, 4th seat will often have considerable values behind the 1NT bidder, even when 1NT is strong. If you have methods against weak notrumps, use them against 3rd seat strong NTs.
You can see how EW needed to have a runout which clearly shows a long minor to opener - here EW got to 2D, but West made a SOS redouble and got to 2HX and -1400. If you play system on over 1NT-X, you should play redouble as 5 in a minor and less than a good game invite. In the other room the 1NT opening was left unscathed by NS, and went down two for just -200, and 15 IMPs for the USA, making it 127-100 Poland. However the rest of the boards were not working for the US, and Poland had a well deserved victory.