Open Team Profile: John Carruthers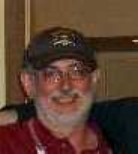 The cats Justine, Balthazar, Mountolive and Clea live in Toronto with their
humans, Katie Thorpe and John Carruthers.  Carruthers credits recent partners
Joey Silver and Drew Cannell with rejuvenating his interest and success in
bridge. His successes include:
- 4 Canadian National Team Championships
- 1 Canadian Open Pairs Championship
- 1 NABC
- 2 Forbo Championships (Netherlands)
- a bronze medal in the European Championships.
He has played in or captained teams in 19 World Championships.
Carruthers is currently the recently-appointed Manager for Canada's Junior
Program, the Editor of the International Bridge Press Association Bulletin
and the Editor of the Ontario Kibitzer. He needs to retire from his day job
as a project manager soon or expire from exhaustion.